Children's Consignment Sale
You've heard some chatter about Mommy Wise, your friends recommended it. You may have even asked on Facebook what other parents are doing with outgrown clothes and toys- someone suggested Mommy Wise. We are going to break it down in this post and tell you all about what it means to be a consignor.
Let's be real, kids go to sleep and wake up the next morning two sizes bigger. I can't count the number of times I've helped one of my kids put on pants only for them to have turned into capri pants overnight.  There is a bin of toys in the corner that no one has played with for months just taking up space. It's time to take back your rooms and closets while making money. 

Step ONE: Register. 
Good news! You are already on our website, head on over to register as a seller and take the first step. Enter your information and pay the $10. By registering early you can take your time, be organized, and not be rushed last minute. 
Step TWO: Gather your items. 
I put on a good movie for the kids to distract them and get to work! I find starting with clothes is the easiest clutter to tackle first. I usually bring in three bins to make it easy. One for Mommy Wise, one for donate, and one for trash. Carefully check your items and ask yourself "would I buy this again?" If the answer is yes, it goes in the Mommy Wise bin, if the answer is no, decide how far gone it is and if it should go in the donate or trash. I'll usually price my clothes and get those done before I move onto toys, shoes, and accessories. I find working in small batches helps me not feel overwhelmed by too much stuff. 
Step Three: Be a Team Member! 
By signing up you will receive 60% of your sales, the best way to bump that up to 70% is by being a Team Member for two shifts. It's a great time to get out of the house and meet new people, check out the inventory coming in, and just get out of the house! Mommy Wise is special because of the relationships made during the week of the sale. It goes by fast, but the friendships I've made during that time have been so fun. I would love for you to join us.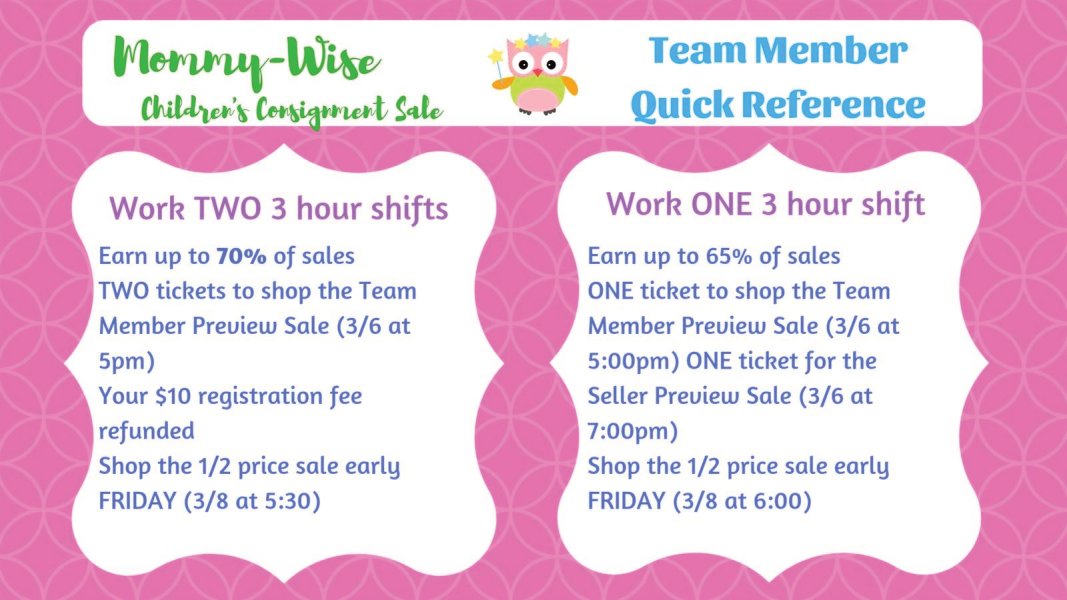 Step Four: Pricing 
This step in the most daunting to new consignors. Don't worry, we've got lots of tips to help you! If after you've gathered your items it seems like too much you are in luck! We have a special team of seasoned sellers ready to price your items for you. Our Concierge Consignor are an easy way to get the perks of consigning without the stress. If you are interesting in this service email
[email protected]
to set up an appointment. We will go into pricing and supplies in a later post. 
Step Five: SHOP! 
Our Team Members and consignors are the FIRST people to shop the sale. That alone is worth the work. You won't believe the amazing deals you will find! Team Members even get to come back Friday night and shop the Half OFF sale early. If you love a deal, this is WORTH IT! 
Step Six: Cash your check 
Checks are available for pickup on Sunday, along with any items you don't want to donate. 
Clean closets, new clothes, and money in your pocket if that sounds like something you are interested in Mommy Wise is the sale for you! 
Let us know if you have any other questions, we are here to help! 
Happy Tagging, 
Emily Bell and the MW Team 
0

/